HEAD COACH – Graham Broadley
Graham is our Head Pro who holds an LTA Level 5 qualification – the highest in the profession. He has a proven track record of developing budding young tennis players and adults alike. He has coached at the club for over 30 years and enjoys coaching players of all levels. Graham has a deep love of the game and believes tennis is the greatest sport on earth.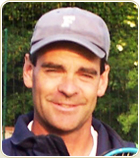 A team of qualified coaches works alongside Graham to provide a full range of coaching services. Tracy Chesher and Jo Edwards work in the mini tennis section and develop children up to the age of 9 years. Paul Clark is the club's ATC (Assistant Tennis Coach) and provides one-to-one tuition for children aged 5 to 12 years old. Paul is an LTA Level 3 qualified coach.
Westcliff Hard offers a full range of coaching options for adults and children. Prices for coaching are very reasonable. Go straight to the price list.
Mini Tennis Coaching
Mini tennis is for children aged 5 to 10 years old and is the very foundation of our junior programme. Mini tennis is played on scaled down courts and has three stages of progression: mini red, mini orange and mini green. Mini red is for children aged 5 to 8 years old, mini orange is for children aged 9, and mini green is for children aged 10. Each stage has its own court size and type of ball. We have a large mini tennis coaching programme that involves both group and individual coaching.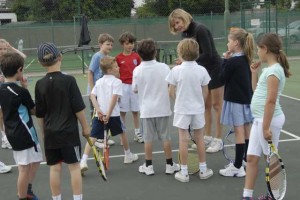 The majority of our junior membership has group coaching. Children aged 11 and over move on from mini tennis balls to the standard yellow balls and train on a full-sized court. Group coaching is popular with children because they both learn and meet friends at the same time. When a child takes up the game for the first time, the best way to start is in a group with players of similar standard.
Pay and Play
Pay and play takes place on Saturdays from 9:00-10:00am is for children aged 8 to 10 and. The cost is £3.00. Children can come to six sessions without to being a member, giving them the chance to try tennis before taking the plunge and joining.
Junior Morning is for children aged 11 upwards and involves the use of standard tennis balls (yellow ball) and a full sized court. Children are supervised in to games compatible with others their standard. Singles and doubles games are organised, and impromptu tournaments are held if numbers are right.
Junior morning is run by the Head Pro and is free to attend. Sue Bunting opens the canteen and tuck shop (school term times only) and serves bacon rolls, teas and coffees.
Junior morning has s a great sense of community and is an integral part junior life at the club. We recommend juniors of all standards attend.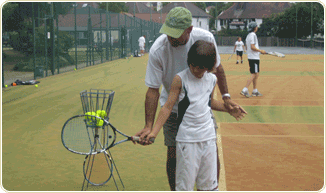 Adults
Tennis is for everyone. It doesn't matter how old you are or what your status in life is, tennis can be learnt and enjoyed. We have a range of coaching options for adults to get started.
Rusty Rackets & Newbies
Rusty Rackets & Newbies is a great way to take the game up or return to it after time away. It's also excellent value and no other club offers anything quite like it. Click here to find out how it works.
Coffee Morning
Coffee Morning tennis is on Mondays 9.30-11:00am and consists of organised doubles, drills and impromptu tournaments. Players need to be of intermediate standard or above to take part. Each session costs £5 to attend. Players can just "drop in" so no need to book.
Group Train
A good way for adults to take up the game is to start with a group of friends and form a small squad. Squads can consist of between four and eight players with the cost split between however many attend.
Individual & Shared Lessons
For the most rapid progress possible, one-to-one lessons are the best solution. You get expert advice and repetitive practice all to yourself. But another great option is to share lessons with a friend. So long as both players are compatible it's an option that works well – plus it splits the cost.
Graham Broadley, our Head Coach, is a fully licensed LTA coach. Contact him at: [email protected] or on 07948 726309
Lesson Type
Duration
Cost
Non Member Cost
Individual lessons
1 hour
45 mins
30 mins
£25
£20
£13
£27
£22
£15
Shared Lessons (2 people)
1 hour
45 mins
30 mins
£26
£20
£13
£28
£22
£15
Childrens Group Coaching (yellow ball)
10 x 55 min lessons.
£50
Membership Required
Three & Me (doubles coaching)
1 hour
£30
Membership Required
Squad Training (for league players)
1 hour
£30 (split cost)
Membership Required
Small Adult Group (beginners 4 to 8 players)
1 hour
£30 (split cost)
Membership Required
Showing 1 to 6 of 6 entries
A team of other qualified coaches works alongside Graham and they provide a full range of the experience needed to cover the different aspects of the teaching skills required.
| COACH | EXPERIENCE | ROLE | QUALIFICATIONS | OTHER QUALIFICATIONS |
| --- | --- | --- | --- | --- |
| Graham Broadley | 31 years | HEAD COACH | LTA Level 5 | DBS, 1st Aid, Safeguarding, & Basic Ref. |
| Tracy Chesher | 20 years | Mini tennis group coaching | Level 2 | CRB, 1st Aid |
| Jo Edwards | 20 years | Mini tennis group coaching | Level 2 | CRB, 1st Aid |
| Paul Clark | 4 years | Mini tennis private lessons & Sunday Mini Red Groups | Level 3 | DBS, 1st Aid, Safeguarding |
| Owen Stanford | 1 year | Mini tennis hits | Level 1 | DBS, Safeguarding |
CHILDREN'S GROUP COACHING TIMETABLE
NOTE: The later the time, the more advanced the group. You can put your name on a waiting list if the class you want is full – [email protected]
| AGE GROUP | DAY | TIME | DURATION | COST |
| --- | --- | --- | --- | --- |
| Mini Red (age 4-8) | Monday | 4:00, 4:45pm | 45 mins | £50 per course of 10 lessons |
| Mini Red | Thursday | 4:00, 4:45, 6:00pm | 45 mins | £50 per course of 10 lessons |
| Mini Red | Saturday | 9:00, 9:45, 10:30, 11:30am | 45 mins | £50 per course of 10 lessons |
| Mini Red | Sunday | 9:00, 9:45am | 45 mins | £50 per course of 10 lessons |
| Mini Orange & Green | Saturday | 9:00am | 60 mins | £3 per session |
| Mini Orange (age 8-9) | Monday | 5:30pm | 45 mins | £50 per course of 10 lessons |
| Mini Orange | Wednesday | 4:00, 4:45, 5:30pm | 45 mins | £50 per course of 10 lessons |
| Mini Orange | Friday | 4:00, 4:45, 5:30pm | 45 mins | £50 per course of 10 lessons |
| Mini Green (aged 10) | Monday | 4:00pm | 55 mins | £50 per course of 10 lessons |
| Mini Green | Tuesday | 4:30pm | 55 mins | £50 per course of 10 lessons |
| Mini Green | Thursday | 4:30pm | 55 mins | £50 per course of 10 lessons |
| Yellow (age 11+) | Monday | 5:00pm | 55 mins | £50 per course of 10 lessons |
| Yellow | Tuesday | 4:30, 5:30pm | 55 mins | £50 per course of 10 lessons |
| Yellow | Thursday | 4:30, 5:30pm | 55 mins | £50 per course of 10 lessons |
| Yellow | Friday | 5:00pm Elite | 55 mins | £50 per course of 10 lessons |
| DAY | ACTIVITY | TIME | STANDARD | COST |
| --- | --- | --- | --- | --- |
| MONDAY | Coffee Morning Tennis | 9:30-11:00am | Intermediate | £5 per session |
| MONDAY | Tennis Express | 7:00-8:15pm May to Oct | Beginner | £50 for six sessions |
| SATURDAY | Club Social Play | 2:00-5:00pm | Club Level | Free |
| SATURDAY | Rusty Rackets & Newbies | 6:00-7:30pm March to Nov | Beginner & Intermediate | £40 for six sessions. Click for details. |
| SUNDAY | Self-arranged social play. | All Day | All Levels | FREE |
| WEDNESDAY | Club Social Play | 7:00-8:45PM | Club Level | FREE |
| THURSDAY | L&W Match Night | 7:30pm | Club Level | FREE |