Club Social Tennis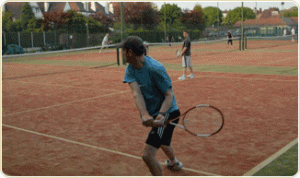 The club caters for the recreational player and the fierce competitor, and all flavours in between. Social tennis plays an important part of club life. It's what makes the club go around and gives it a sense of community.
Social play takes place on Wednesday evenings from 7pm onwards and Saturday afternoons from 2pm to 5pm. The head coach runs Wednesday evenings and an available committee member will usually run Saturday afternoons.
What Happens in Social Play?
Social tennis is predominantly doubles. Players are organised into compatible fours to provide the best games. The person charged with running of social play on a given afternoon will be experienced and skilled at balancing fours so games are evenly matched.
Can Anyone Join in Social Play?
Social play is not for beginners. You need to have reliable strokes and have experience of playing points and sets to comfortably mix in. But don't worry if you feel you may not be strong enough, we have other programmes to ease you into club tennis and help you build your game. Your game will quickly develop along with the confidence to mix in with others.
Not Sure of Your Playing Level?
You may have already played tennis in the park or at another facility but are unsure how your level of play will stand up in general club tennis. This is a common scenario so don't worry. The best thing to do is to make an arrangement to come down and give social tennis a go. You will quickly become aware of the general club standard and where you stand in relation to others. Another way would be to have a lesson with the head coach. He will assess your level of play and tell you how you compare.