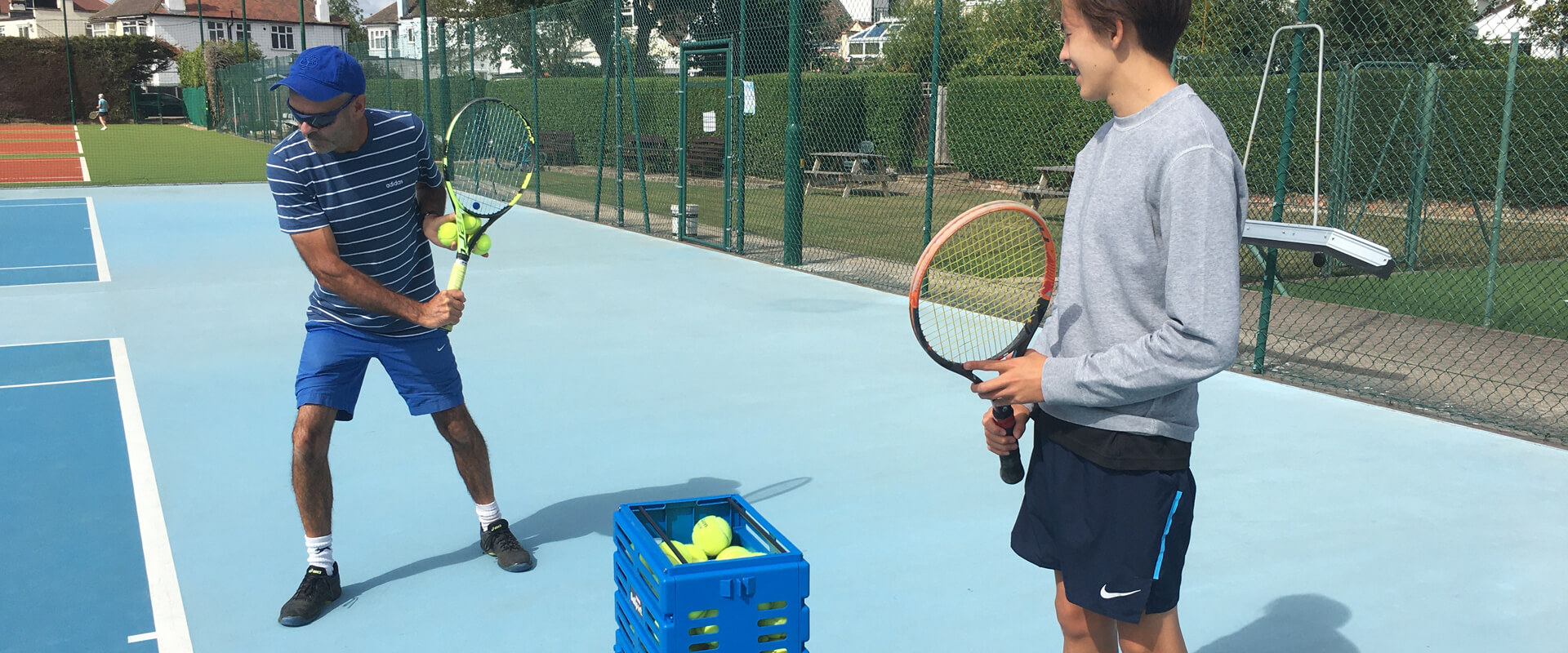 Your Coaching Journey
Get tennis coaching and start your coaching journey by enrolling in one of our buzzing programmes. Our tennis lessons are given by highly skilled coaches who know exactly what they are doing. In no time at all we will get your tennis up and running and off to a flying start. You will also be given a complimentary two-week membership to try out our incredible club. You are just seconds away from embarking on an amazing tennis journey. Book a 2-week trial today!
WHY CHOOSE US?
Our comprehensive programme runs 7 days a week and offer the most keenly priced tennis coaching around. We have access to 9 floodlit courts (including 2 purpose-built mini courts) and offer classes from 7am to 9pm at night. We run classes for all age groups (4yrs to 90!). Our coaches are LTA qualified with 1000s of hours on court experience. We can take you on a journey from beginner to club player and even further if you want.  Our customer base is so broad you are guaranteed to meet others just like you. Best of all you get to dip your toe in the water for FREE in some programmes.
Experienced Coaches
When you get tennis coaching from us you will be taught by coaches with a wealth of experience. The best thing about experienced coaches is they will get you there quicker. They have seen all the common problems before and know how to cut straight to the chase. Your will be up and running no time.
OUR Head Coach IS LEVEL 5 QUALIFIED.
LEARNING THE FUNDAMENTALS
Tennis is all about fundamentals. Getting them under your belt is critical to setting you up for a steady and progressive path. Our coaches are highly skilled at teaching the A,B,C's of tennis to ensure beginners and intermediates get off on the right foot. Learning sound fundamentals is the key to helping you reach your full potential.
FUNDAMENTALS REALLY COUNT
VALUE FOR MONEY
Providing affordable tennis programmes is absolutely key to our coaching philosophy and one of the core reasons why our classes are always brimming. We pitch our prices so people can come along week in and week out without breaking the bank. Virtually everyone feels our coaching is good value!
GOOD VALUE IS SO IMPORTANT
TENNIS COACHING TESTIMONIALS
[sp_testimonial id="2685″ ]
TRAIN WITH PURPOSE
Every coaching session you undergo will have purpose. Whether you are tasked with improving a certain stroke or practicing a game-based scenario, you will always be taught with purpose. We will also show you on how to practice constructively with others to further speed your progress.
LEARN TO PRACTICE WITH PURPOSE
THE PROGRAMMES
We have an array of programmes for both adults and juniors. Visit our Adult and Junior pages to learn more, and our Sessions page for more in depth descriptions of the sessions we run. We do our very best to ensure we have sessions to suit everyone needs, but if you feel we don't, be sure to let us know!
SESSIONS FOR EVERYONE
TENNIS COMMUNITY
Westcliff Hardcourt Tennis Club has a great sense of community. It's a place where people come not only to get tennis coaching but to make friends and hangout together. One of the things that makes tennis so attractive is the camaraderie and fun that naturally comes with the sport. Community is at the root of our coaching programmes!
MEET OTHERS WHO LOVE TENNIS
OUR TENNIS COACHING TIMETABLES
HOW TO GET YOUR TENNIS CLASSES STARTED?
START YOUR COACHING JOURNEY IN 3 EASY STEPS
STEP 1
Click on the 'BOOK A TRIAL' button to apply to join the club for two weeks for FREE. Here is your chance to tell us about your goals, such as whether you are a competitive type of person or a person who plays more for fun...or a bit of both.
STEP 2
We will email you to authorise your FREE club trial and give you a start date. During your trial you can access our great value coaching delivered by qualified professionals. At this point you can ask which type of coaching might suit you best.
STEP 3
Once you have completed your 2 week trial, you will have the option to join the club. If you join, you will be welcomed with open arms and can continue to have coaching with the best professionals around, and get to join a thriving community of improving players!
Want to talk to the head coach about tennis coaching and which tennis lessons might suit you best?
HE WILL ANSWER ANY QUESTIONS YOU HAVE
FREQUENTLY ASKED QUESTIONS