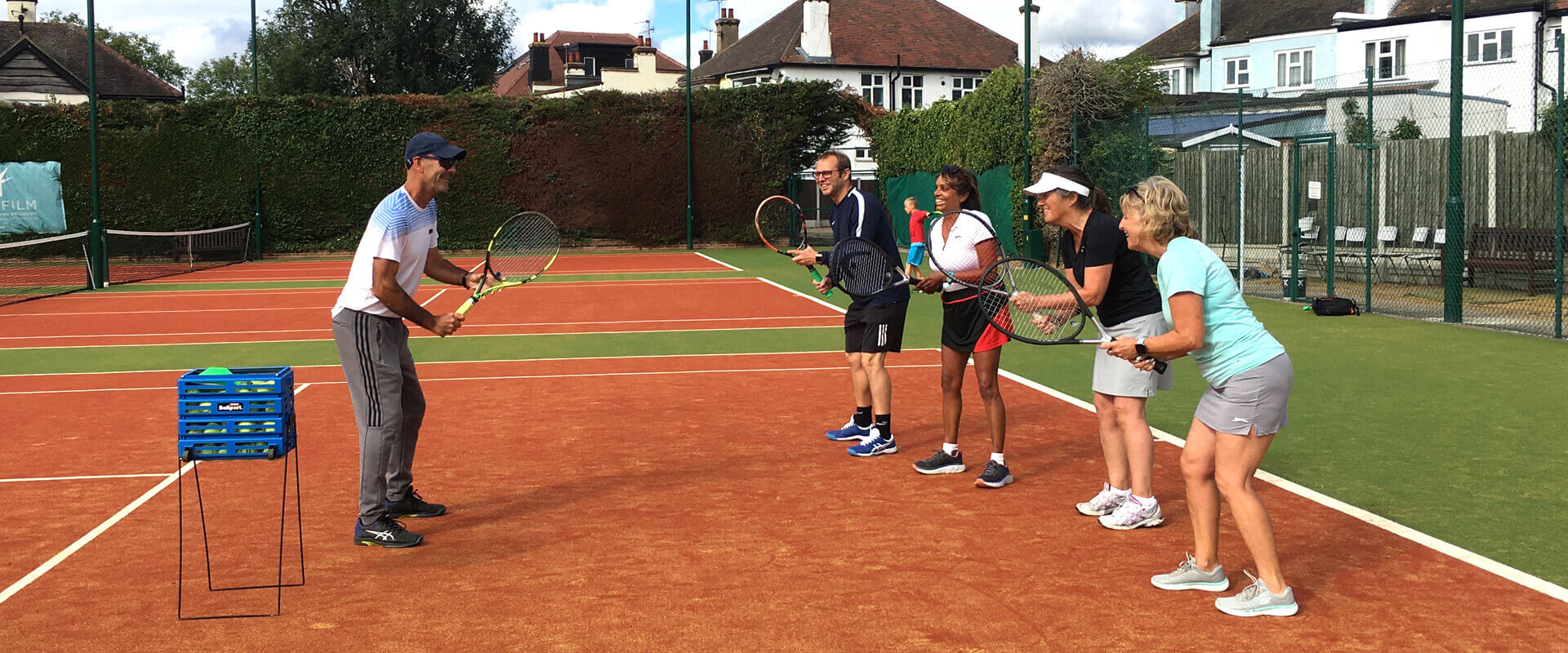 ADULT COACHING
Tennis coaching for adults. Enrol in one of our group coaching programmes and get two weeks' complimentary membership of our amazing club thrown in. You will be taught by coaches skilled at developing both beginners and experienced players in double quick time. Enrol and play. Let's get started.
Tennis Coaching To Improve Your Game
Be coached by skilled tennis coaches with thousands of hours of coaching experience behind them. We can get beginners up and running in a jiffy and have the know-how to turbocharge the games of advanced players too. You are in great hands whatever your level of play and guaranteed to improve!
COACHING SOLUTIONS
We provide 1-2-1 coaching, group coaching and an array solutions in-between. Why not try shared lessons with a friend? Or drum a group of friends and be coached together? We have coaching solutions for any number of players and scenario.
WE HAVE SOLUTIONS FOR ALL BUDGETS
LEARNING THE FUNDAMENTALS
Tennis is all about fundamentals. Getting them under your belt is critical to setting players up for a steady and progressive path. Our coaches are highly skilled at installing the basics and getting players up to club level in the shortest possible time.
SKILLED COACHES GET YOU THERE QUICKER.
JOIN A TENNIS COMMUNITY
Whatever programme you enrol for you will be part of a community of players with similar goals. Not only will your game improve but you will meet others to play with along the way. It can be life-enhancing to become captivated by the game and meet other like-minded people.
TENNIS CAN ENHANCE YOUR LIFE.
JUST HAVE A GO
Did you know 83% of adults looking to take up tennis said they felt too embarrassed to try? DON'T BE! We run great starter programmes. You will be with others starting out and taught by remarkably understanding coaches. Shared private lessons are also a great option. Or rally a group of friends and be coached together. Anything goes. Flexibility is our middle name!
PRACTICAL COACHING
Practical coaching can be a revelation for adult players. Sometimes learning textbook strokes can be too challenging and practical workarounds often work out miles better. Practical coaching works with players of all levels and is often a great solution where traditional coaching has had limited results.
PRACTICAL COACHING REALLY WORKS.
EXPERIENCED PLAYERS
We know even experienced players are always looking to get better and improve. Through video analysis and a thorough understanding of biomechanics, our Level 5 coach can drill down into your strokes and deliver game-changing results. We have a history of developing excellent players.
WE CAN DEVELOP GREAT PLAYERS.
HOW TO GET STARTED?
START YOUR COACHING JOURNEY IN 3 EASY STEPS
STEP 1
Click on the 'ENROL TODAY' button to apply to join the club for two weeks for FREE. Here is your chance to tell us about your goals, such as whether you are a competitive type of person or a person who plays more for fun...or a bit of both.
STEP 2
We will email you to authorise your FREE club trial and give you a start date. During your trial you can access our great value coaching delivered by qualified professionals. At this point you can ask which type of coaching might suit you best.
STEP 3
Once you have completed your 2 week trial, you will have the option to join the club. If you join, you will be welcomed with open arms and can continue to have coaching with the best professionals around, and get to join a thriving community of improving players!