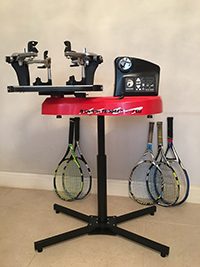 The Stringer
I run a racket restringing service at Westcliff Hardcourt Tennis Club. My service covers Westcliff-on-sea, Leigh-on-sea, Southend-on-sea and the surrounding areas and is available to both club members and non-members alike.  I have restrung thousands of tennis rackets during my career an am a competent stringer. I ran a business importing and distributing tennis strings for over 10 years so know a lot about tennis strings and how different strings play.
All the restrings I do are carried out using a state of the art Gamma electronic stringing machine, which can tension a racket to the nearest ⅒ of a pound. Rackets can be turned around in 24 hours on request.
Contact me on 07948 726309 or coachgraham@zoho.com to have your racket restrung by me.
---
Here is some information on tennis strings designed to help you make an informed choice:
Polyester Strings
Polyester strings have grown in popularity over recent years. Why?  Because they provide both durability and playability in equal measure. [expander_maker id="2″ more="Read more" less="Read less"]Before polyester strings, players had to choose between installing a string that was durable (with a stiff feel) versus installing one that felt really good to play with but lacked durability. With polyester you get both: durability and playability. Another interesting feature of polyester strings is their ability to provide spin. A polyester string will get 25% more topspin than nylon, kevlar, or natural gut strings. That's lot of extra spin for players who use topspin.[/expander_maker]
Nylon Strings
Nylon strings don't offer the same durability or tension-holding qualities of polyester,  but they offer tremendous range of playing characteristics. [expander_maker id="2″ more="Read more" less="Read less"]Nylon strings can be constructed in many different ways to produce different playing effects. Multifilament strings have a lovely, luxurious feel to then. Wrapped monofilaments tend to have firm yet elastic quality to them. Monofilaments tend to have a firm feel. But these are wide generalisations. Each type of construction can have it's own unique type of playing style simply because nylons can be constructed in so many different ways.[/expander_maker]
Natural Gut
Natural gut is still the Rolls Royce of tennis strings…if you can afford it. [expander_maker id="2″ more="Read more" less="Read less"]The playability of natural gut, for many players, remains unsurpassed. The downside is gut isn't as durable as other strings and will gradually lose tension over time. Nor can use natural gut in wet weather as it will fray and disintegrate. Some manufacturers claim their gut is waterproof, but what they really mean is that it will survive a tiny bit of drizzle. No natural gut will survive wet balls![/expander_maker]
Hybrids
A hybrid is a combination of two strings. [expander_maker id="2″ more="Read more" less="Read less"]The main strings, which take all the strain, (the vertical strings) are usually strung in the more durable of the two strings, while the cross strings (the horizontal strings) are strung in the more playable strings. Hybrids come in endless combinations and the ideal combination can only be found through experimentation. I can usually help you narrow that choice down.[/expander_maker]
Composite Strings
Composite tennis strings are constructions where different grades of nylon, and sometimes other materials, are wrapped around a monofilament and fused together. [expander_maker id="2″ more="Read more" less="Read less"]Like hybrids, composite strings offer the benefits of different materials and this reflects in their playability.[/expander_maker]